One Royal Art
Handmade Vintage Persian Hamadan Rug 2.3' x 3.9' (73cm x 120cm) 1970s -1C1074
Regular price
$420.00 USD
Regular price
Sale price
$420.00 USD
Unit price
per
Sale
Sold out
Introduce a touch of heritage and artistry to your living space with our Handmade Vintage Persian Hamadan Rug, a charming piece from the 1970s. This exquisite rug effortlessly embodies the essence of Persian craftsmanship and tradition.
Measuring 2.3 feet by 3.9 feet (73cm x 120cm), this rug is perfectly sized to grace any area with its beauty. Despite its age, this rug retains its original condition, with some minor damages on one end that only add to its character and authenticity.
Crafted from premium wool, this rug not only offers durability but also a luxurious and soft texture underfoot. The intricate blend of red, green, white, blue, and yellow background colors creates a vibrant symphony of hues that infuses your space with warmth and visual allure.
Originating from the Middle East, this rug is a testament to the Hamadan style, renowned for its distinct patterns and cultural significance. Each thread woven into its design carries a piece of the region's history and artistry, making it a unique and cherished addition to your home.
Embrace the captivating charm of this Handmade Vintage Persian Hamadan Rug. Whether placed in a cozy corner, under a table, or in a hallway, its presence will transform your space, invoking a sense of tradition and timeless beauty.
-condition: original, some damagges on one end,
-circa: 1970s,
-size: 2.3' x 3.9' (73cm x 120cm),
-material: wool,
-country of origin: Middle East,
-style: Hamadan,
-background colors: red, green, white, blue, yellow.
Shipping

Shipping Information: This product ships from our warehouses in New York, USA or Bordeaux, France.

Shippable to the Following Countries: the rest of the World.

Shipping Starts In: 3 to 7 days 

Shipping Charges based on the weight of the item and the country of delivery.
Returns

Return Policy We want you to be 100% satisfied with your purchase from One Royal Art. We offer a 14-day return policy. See the Terms and conditions for more details. 


Share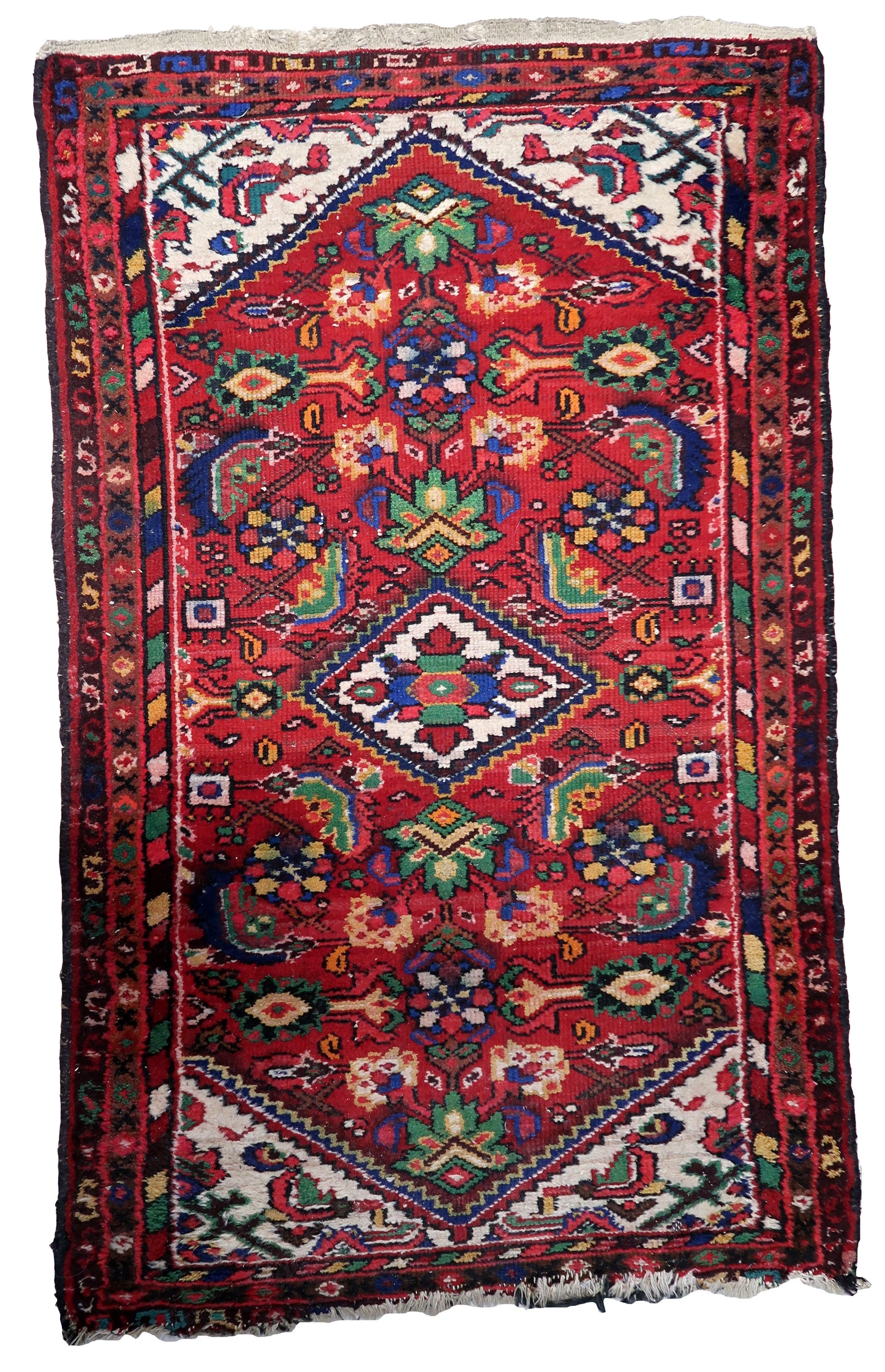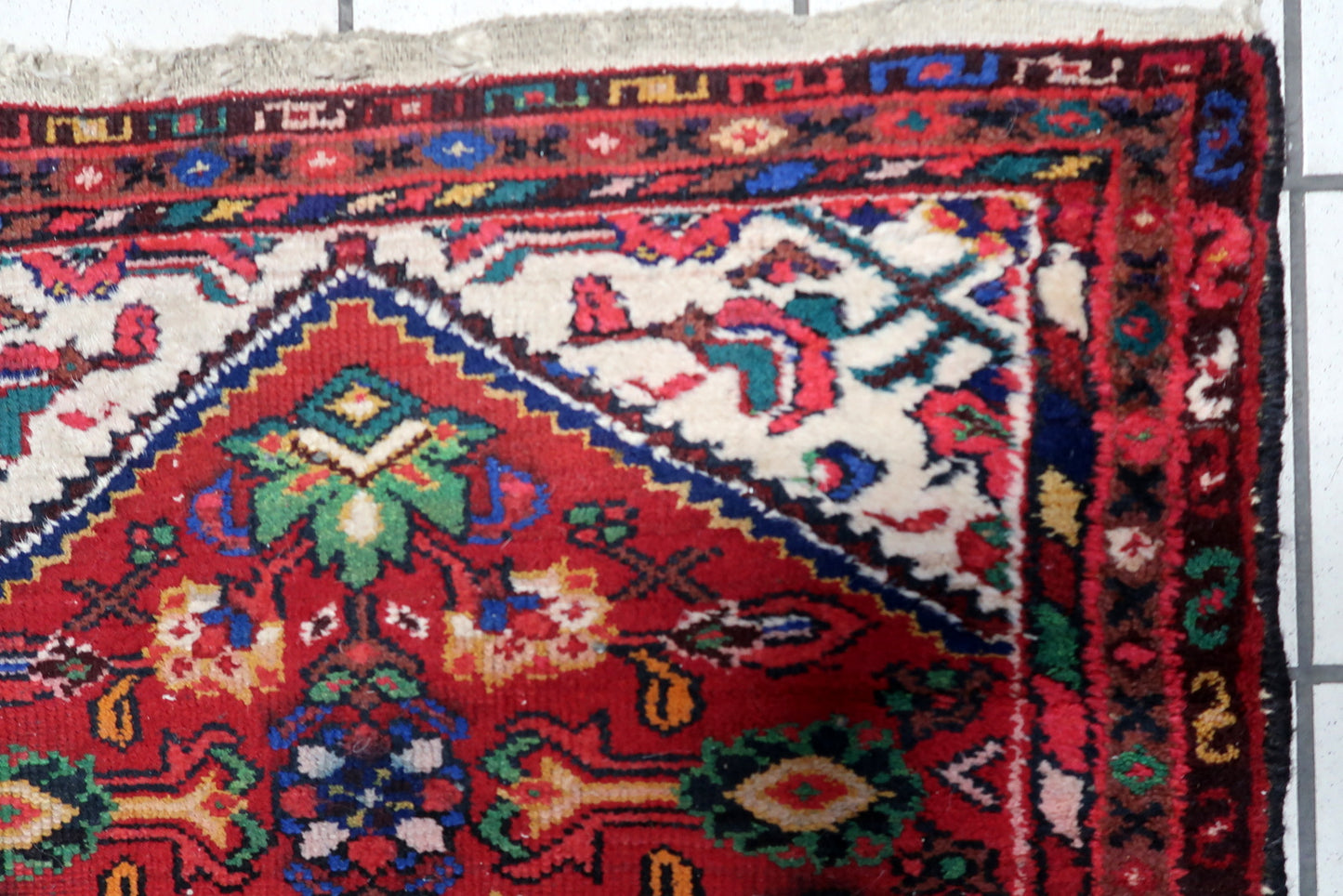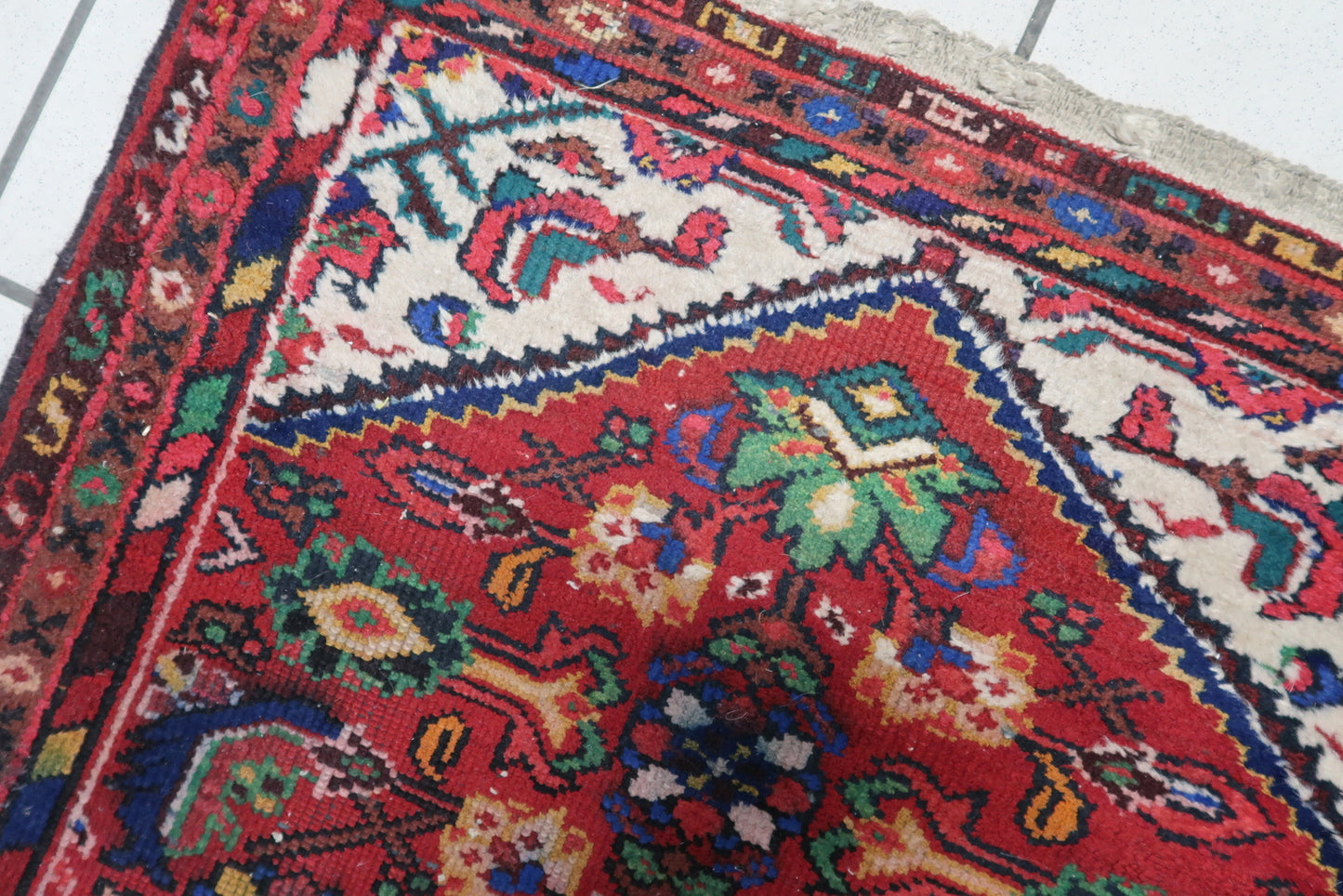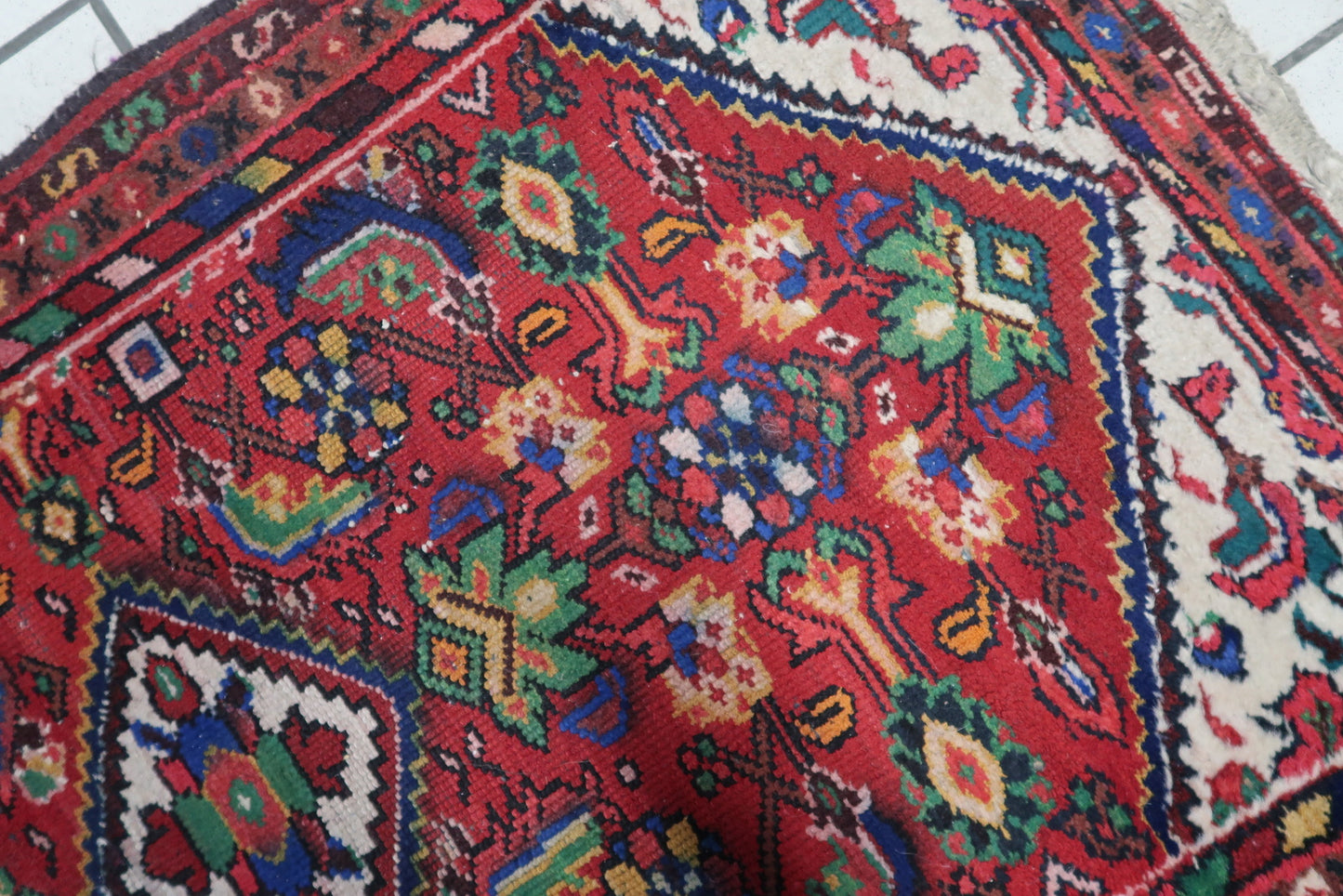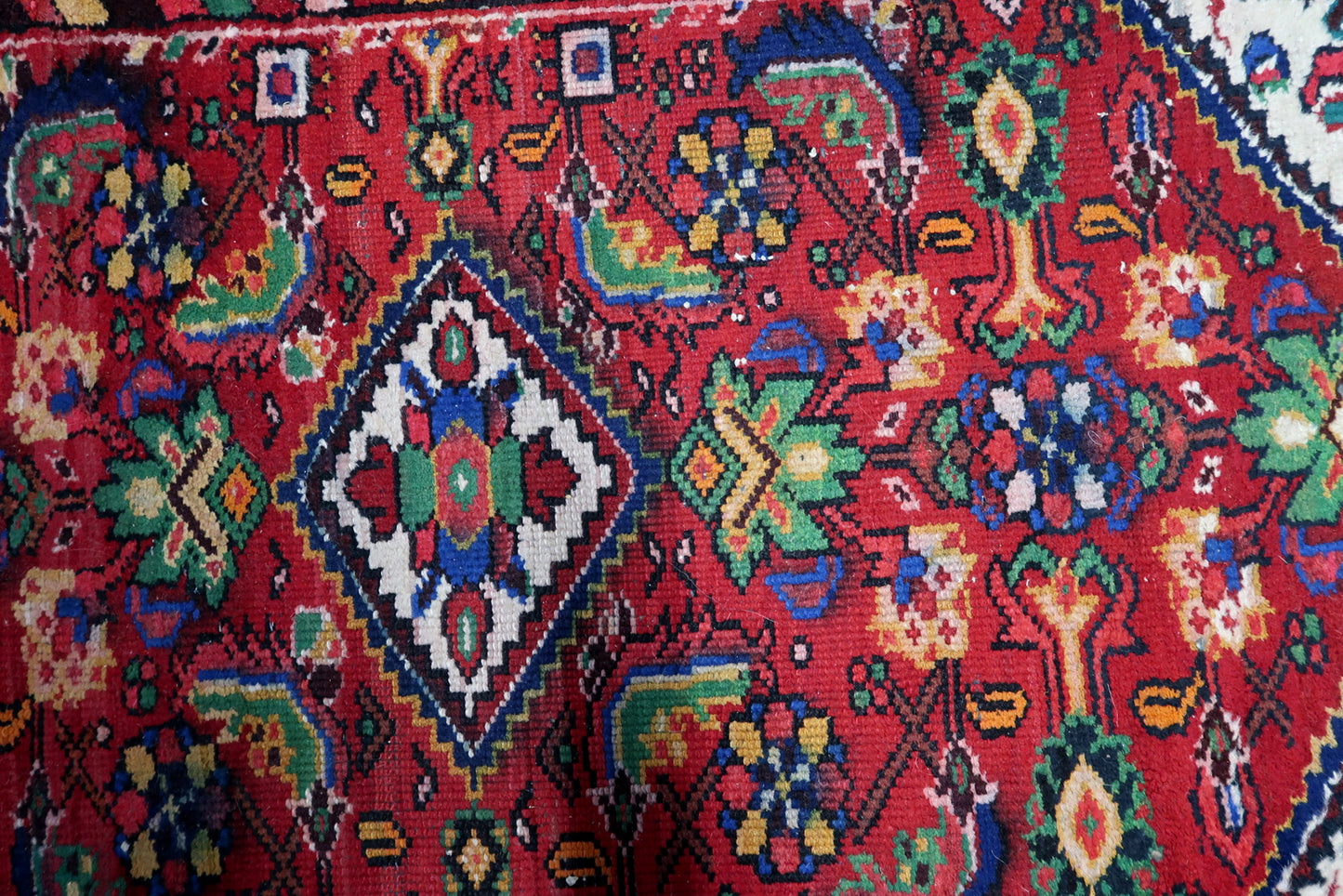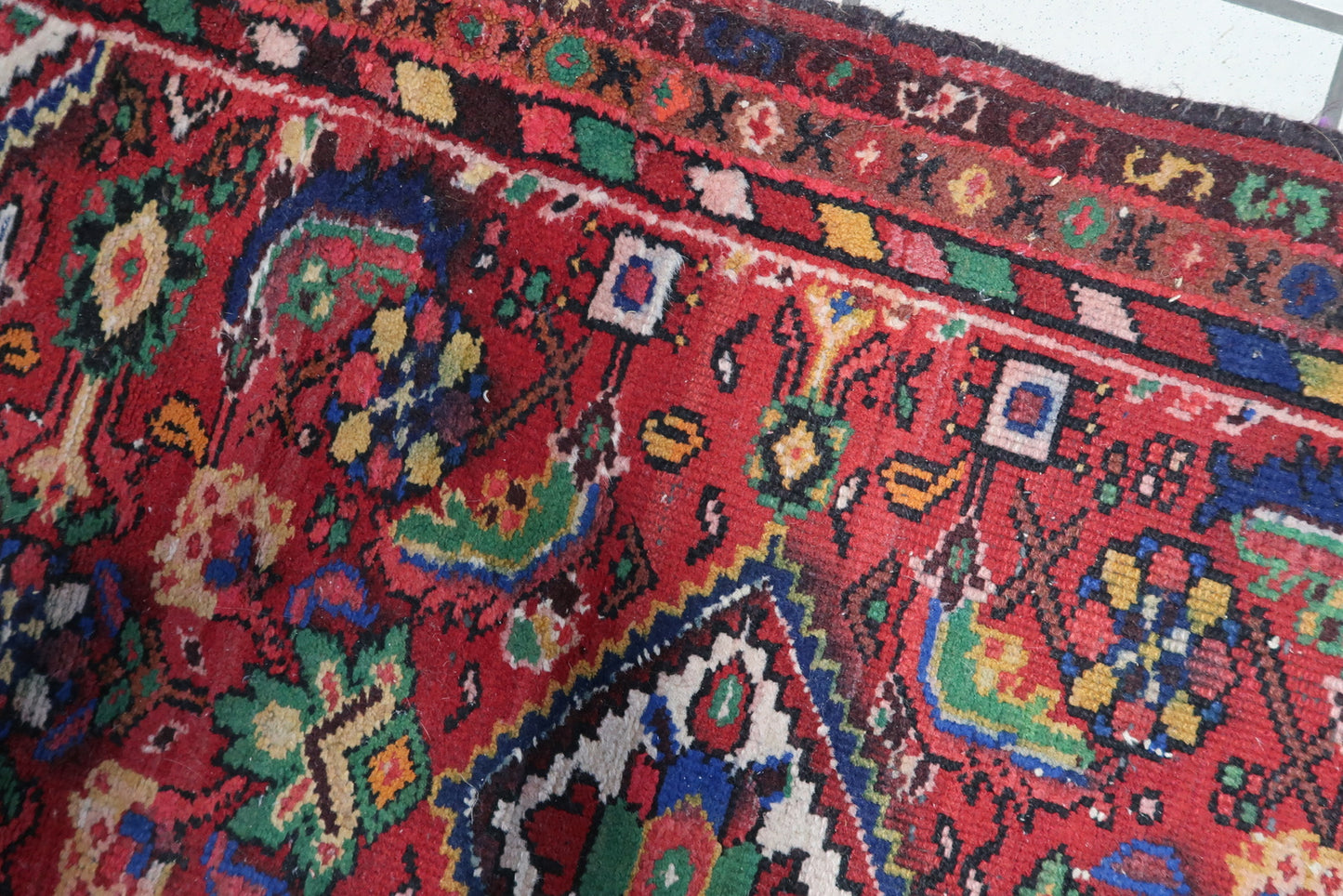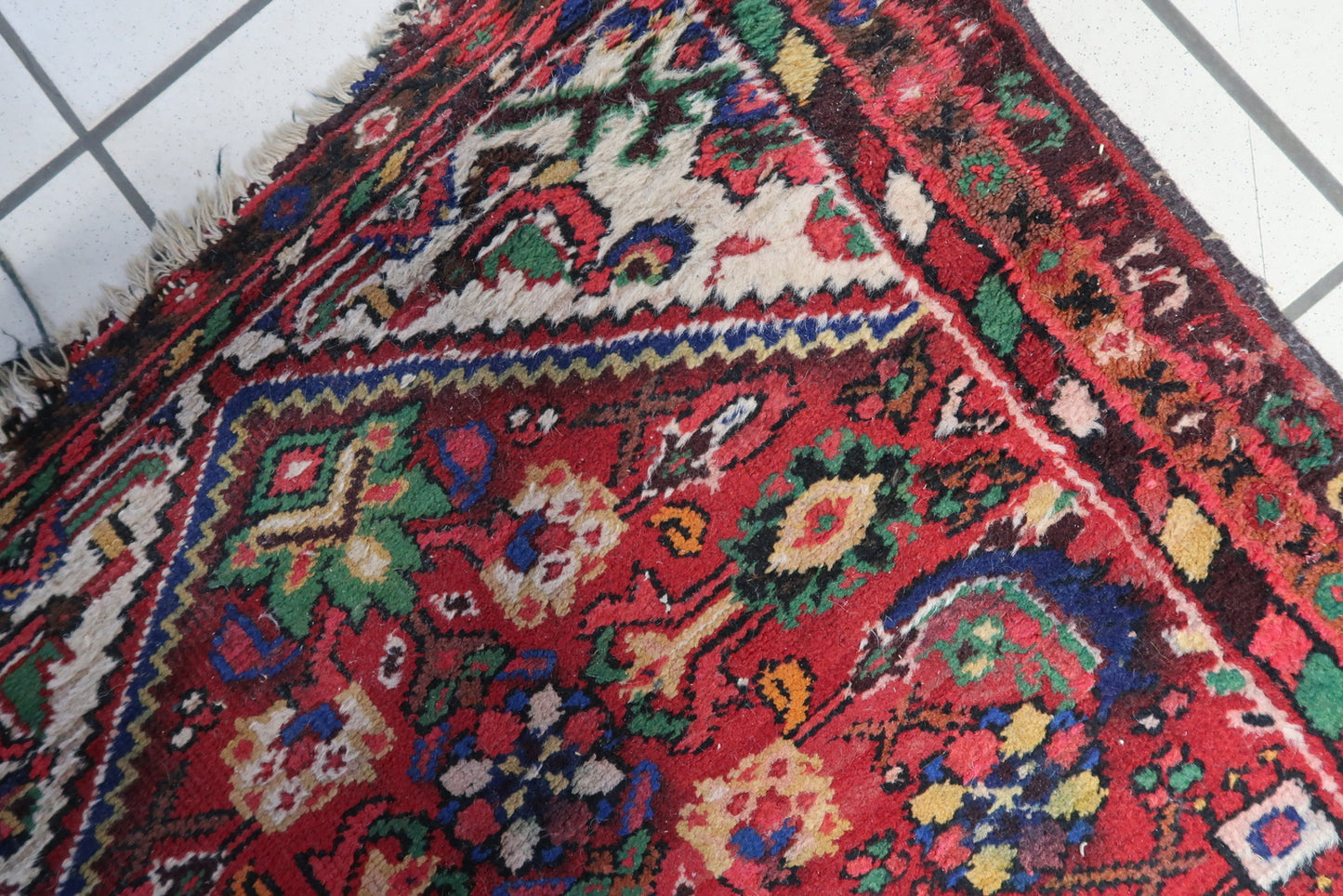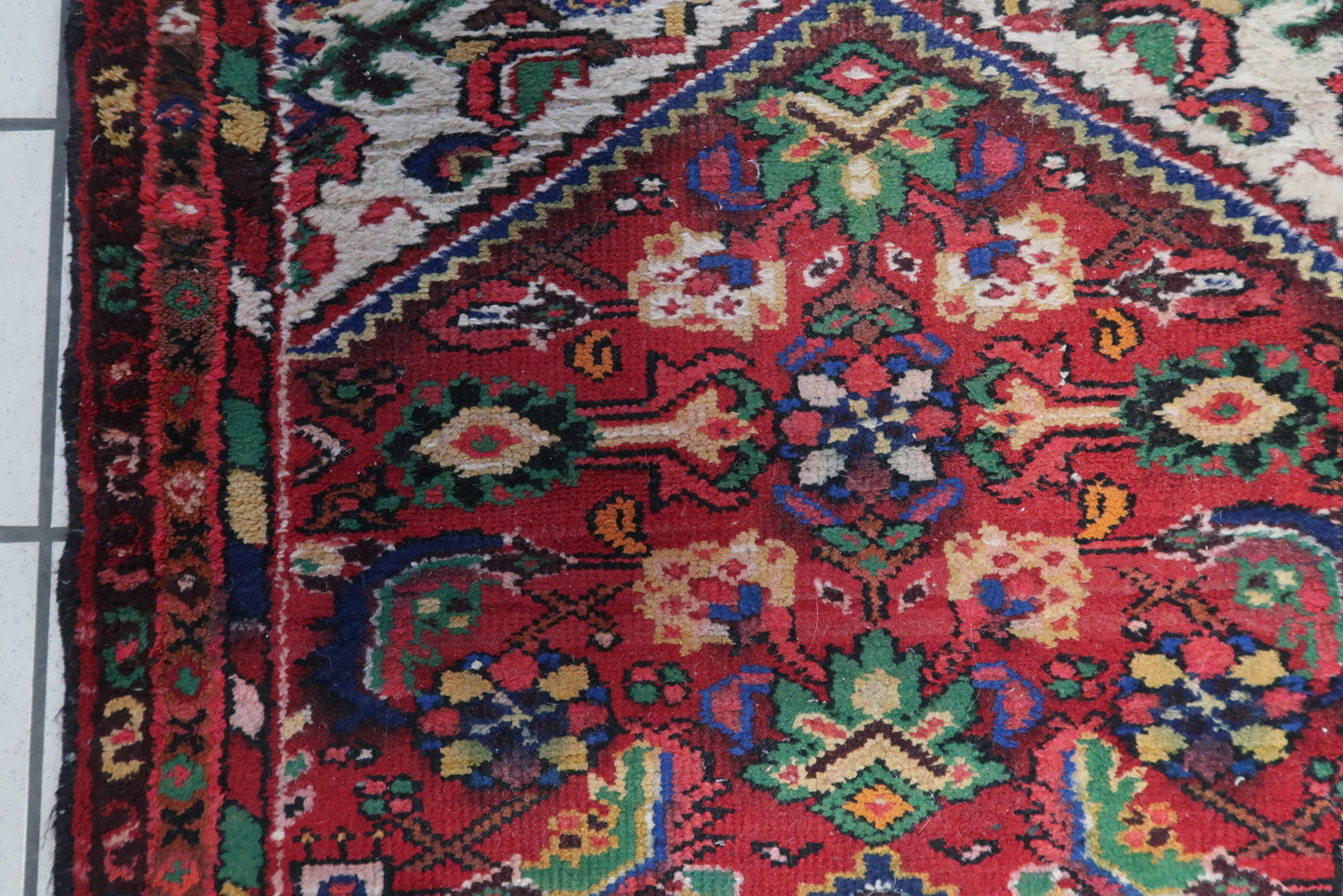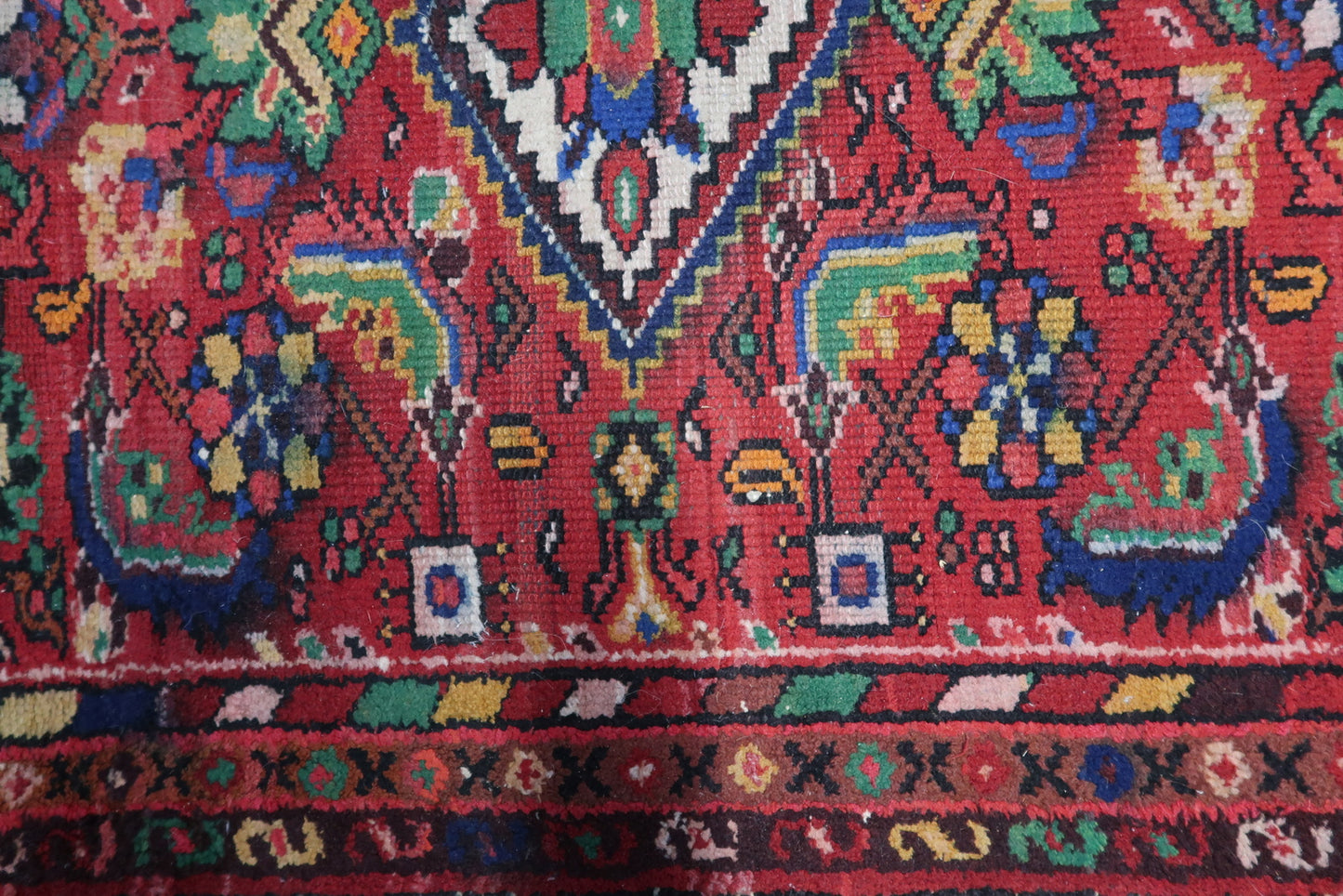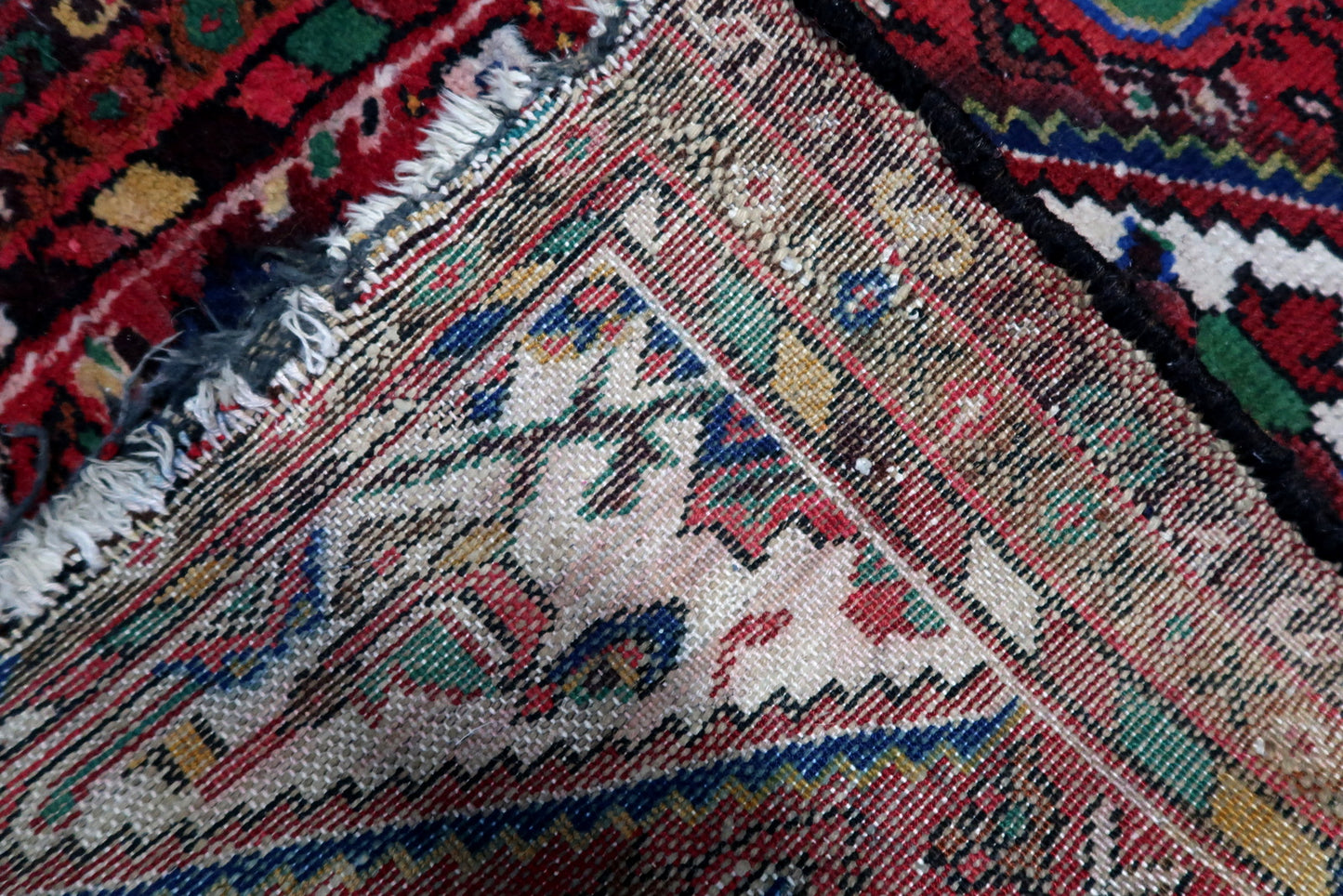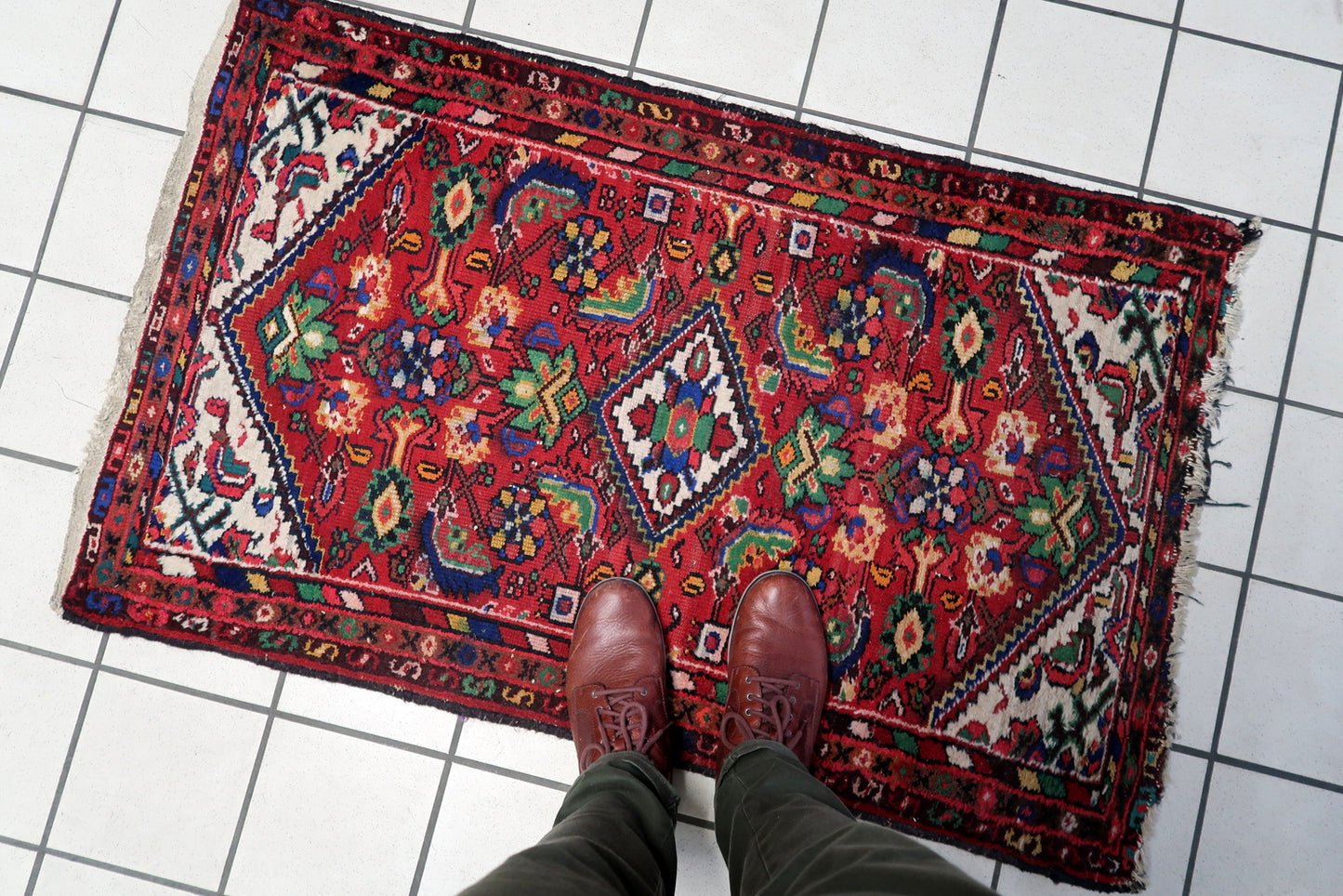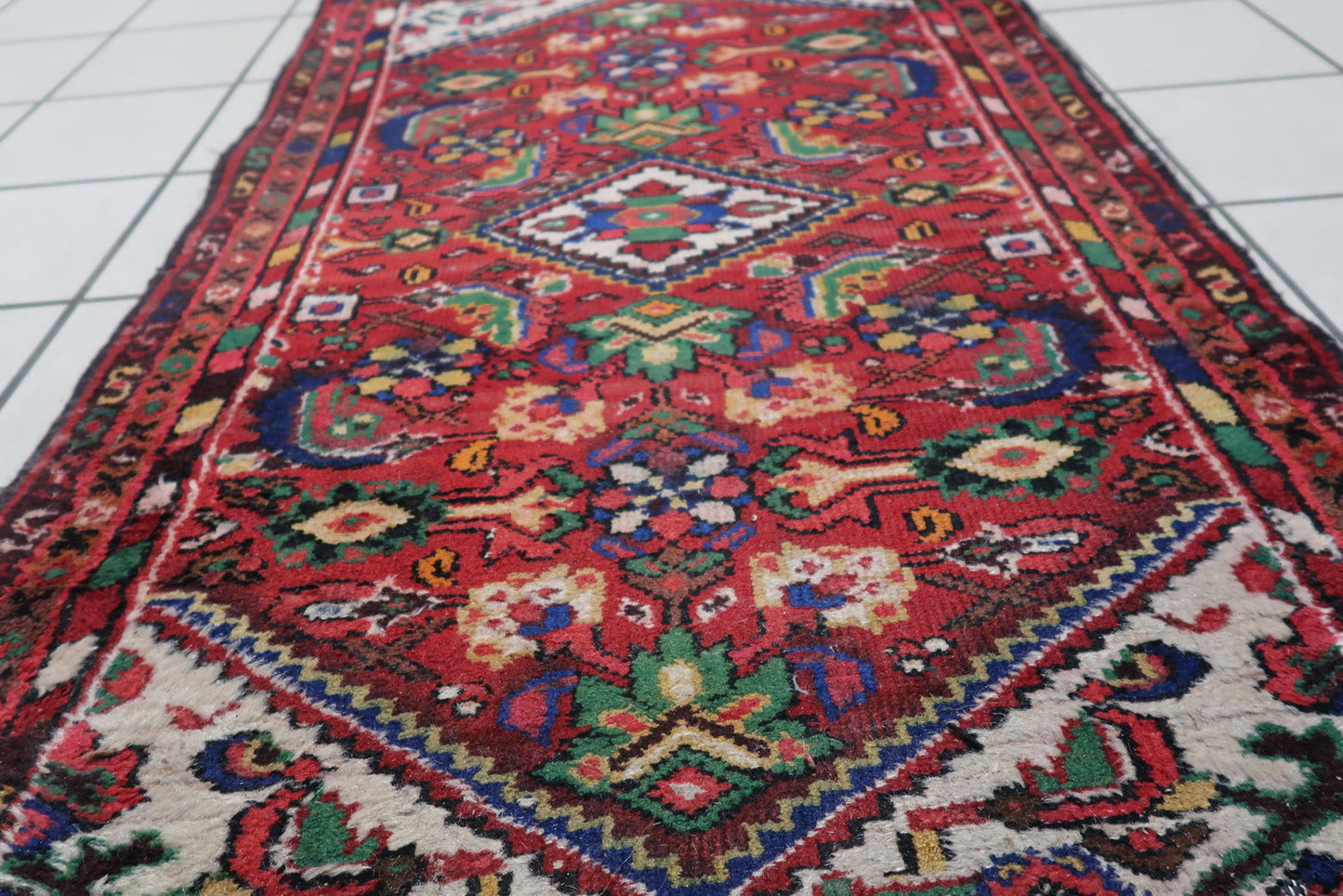 Cleaning

At One Royal Art, we value our customers' satisfaction and want to ensure that you receive the best possible experience when shopping with us. That's why we make it a priority to prepare each item for its journey to your home.

This particular item will be carefully cleaned and inspected before being dispatched, so you can rest assured that it is ready to be used and enjoyed in your home.

We take great pride in meeting all of our customers' needs and strive to exceed your expectations with every purchase. If you have any special requests or concerns, please do not hesitate to contact us. We are always here to help and ensure that your shopping experience with One Royal Art is a memorable one.

Restorations

At One Royal Art, we are proud to offer professional rug restoration services in the French Aquitaine region and the New York City area. Our team of experts is dedicated to bringing your beloved rugs back to their former glory.

We understand that transporting rugs can be a hassle, which is why we offer free pick-up and delivery services once the restoration work is complete. You can rest assured that your rug is in safe hands and will be returned to you looking as good as new.

We take great pride in our work and strive to provide the highest level of craftsmanship and customer service. Our team uses only the best materials and techniques to ensure that your rug is restored to its original beauty.

Whether you have a family heirloom or a favorite rug that needs some TLC, we are here to help. Contact us today to learn more about our professional rug restoration services and how we can assist you.

Costumer support

At One Royal Art, we are committed to providing a warm and welcoming shopping experience for all of our customers. We take great pride in offering a thorough and efficient service at very reasonable prices, and our high rate of satisfied repeat customers is a testament to the quality of service we provide.

Our team is dedicated to ensuring that your shopping experience with us is a positive one, from the moment you enter our store or website to the moment you receive your order. We are passionate about our products and are always happy to assist you in finding the perfect item to suit your needs.

We believe that our success is measured by our customers' satisfaction, which is why we are committed to providing an exceptional level of service that exceeds your expectations. We welcome your feedback and strive to continuously improve our offerings to better serve you.

Thank you for choosing One Royal Art. Shop with us today and experience the difference in service that sets us apart from the rest.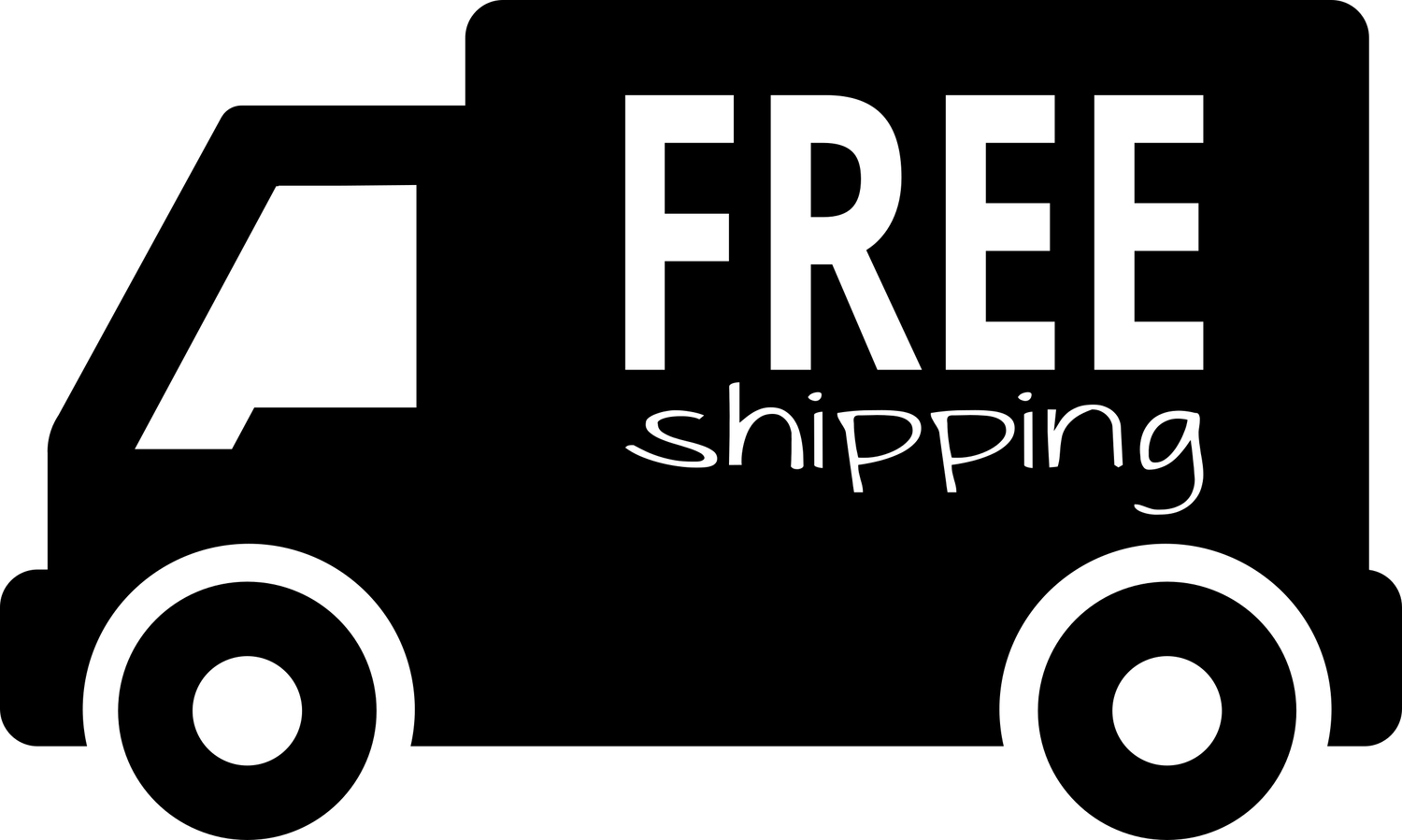 Enjoy free shipping anywhere in the Wolrd
No order minimums required! Opt for "FREE Shipping" during checkout and receive your order in just 2-3 weeks.